The thing about manipulating files is, if you're using OneDrive, or some kind of cloud service, images may be secured and only viewable by people signed-in to the same cloud service that the image is being projected from.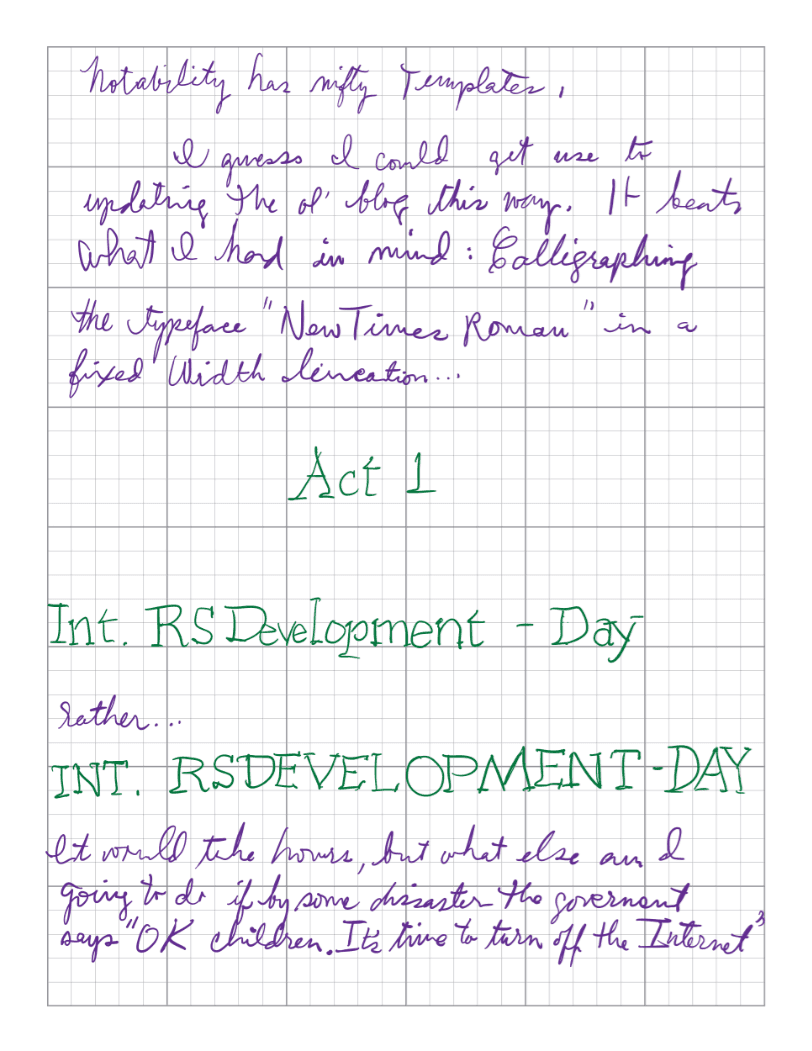 Journal Entry tab for Screenwriters Workbook Project
Notability is good for using templates to brainstorm ideas with Apple Pencil. After creating the following tabs in OneNote,
Schedule
Journal
Story
Characters
Act1
Act2
Act3
Resources
… it isn't difficult at all to compose content for the Journal tab and export it as an image file. Image files (jpg, png, gif) are easy to upload to my blog (which isn't pdf friendly.)
I'm using the iOS bundled Calendar app for scheduling. Again, it's easy to take a screenshot of the monthly view and/or the weekly view from within the Calendar app and share it to OneNote.
The Story tab is more involved as I have numerous apps on my iPhone and iPad that can be used for composing content for this section. The original blank templates from the Screenwriter's Workbook appears like comicstrip/storyboard panels the size of a square sticky note. That's why I'm open to use the following apps for this section.
MemoPad 2
Inkflow
Comic Captions
I'll tell you what I like about Inkflow. It's basically an app that allows for basic Apple Pencil writing. It only utilized black ink on a white surface. When I have a few panels sketched out, I can back out of the current page I'm writing on to see a preview thumbnail of all my files. Taking a screenshot of the files this way is like creating a multi-panel comicstrip, although partial margin content is cropped during screen capturing.
MemoPad2 works differently whereas I don't know where files are saved. While MemoPad has more option to write with, colors, pen width, photoshop imports as native files, etc. it functions differently on an iPhone than it does on my iPad. I hate that!
On an iPhone I can use two fingers to swipe down on the current file to see all files IN A MULTI PANEL FORMAT, which allows me to screen-capture with similar results to Inkflow. But as much as I try to double-finger swipe down on an iPad, I just don't see anything happen. While it could be as simple a glitch as the MemoPad app not being synched to the same cloud service as my iPhone version of the app, it's enough of a headache to just default to Inkflow when using an iPad instead of MemoPad.
The Characters tab is something I'm going to try and create a template for in some word processing app like Pages or Notability. Fun fun. The Acts tab are multi-paneled templates easy enough to create. Maybe I'll designate Inkflow for the Story section and MemoPad for the Acts tabs.
Lastly, Resources. This is basically a Contacts Rolodex type section. I figure the bundled iOS Contacts app would work fine for this. And voilà, instant multi-tool app screenwriter workbook binder.