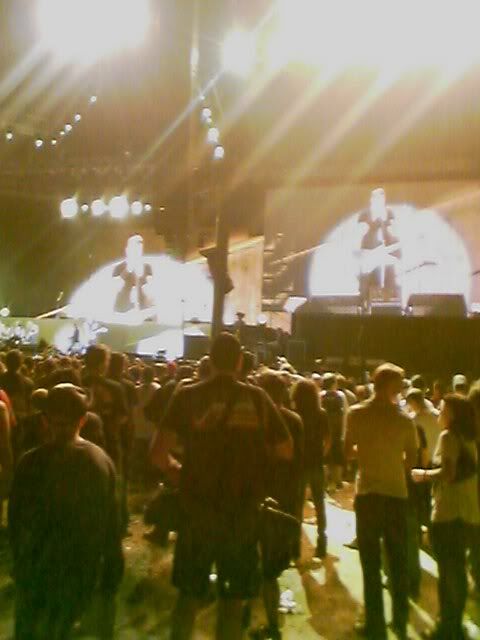 So it turns out that I only missed one band. Anthrax. I caught the last few songs by Megadeth, and started walking around to the different tents. I found a beer garden and bought a Bear Republic Racer IPA. By that time, it was already getting close for Slayer to take the stage. Having seen them in concert the last few tours, most songs would be from their most recent CD which was release in 2006. These three pix are of Metallica.


It dawned on me, after Slayer finished their set, that I hadn't eaten lunch. It was already 8:00PM and my stomach was growling. I found a burger with fries, and another Racer. The beer garden was on opposite sides of the field, so on my way back to the pit, which was a walk, I began to get hungry again. I bought a slice of jalapeño pizza and a water. I hadn't finished eating when Metallica took the stage. I'd been trying to make a voice call during Metallica, but I couldn't hear the automated system prompt me for the pass code. The first two pictures are from where I was standing after I polished off my slice of pizza.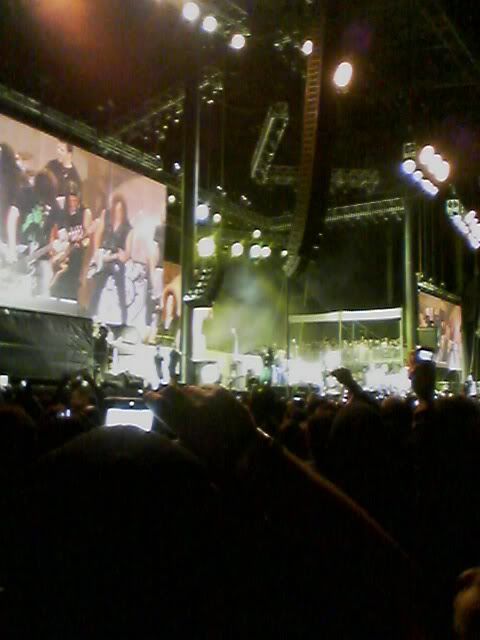 This last picture was closer to the left side of the stage. I wasn't watching the video monitors as much as the performers. Along with the toy cameras I was lugging around in my backpack, I also thought to bring a 10x25 monocular. Although I was limited to watching James Hetfield and Kirk Hammet with one eye, it didn't bother me as much as the concept of watching a video screen. The picture was actually clearer than the video screen, and if it wasn't for the occasional head bouncing into my field of vision, I probably would've watch the entire concert this way.