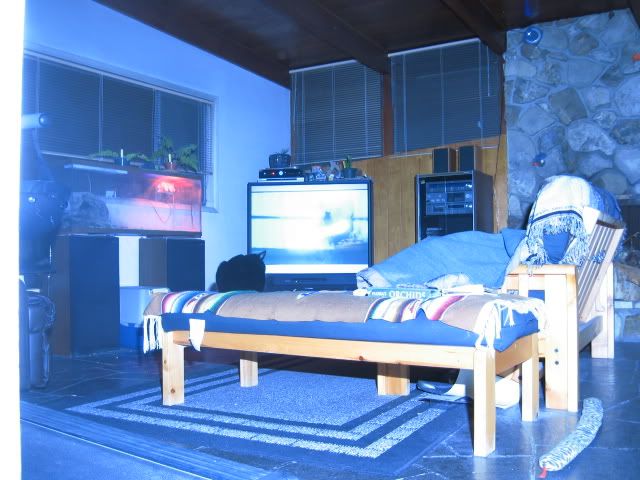 I never learned how to use all the different features on my vivitar flash for my hot shoe camera. Today I thought it was high time that I sat myself down with the digital camera and take a few exposures using the manual flash at different settings to see what effects I get; hence, figure out one or two things on taking great night photos.

I set the digital to shutter speed 4 seconds. I also set it at a delay timer to give me time to fumble with the flash and press the manual button. The subject is the living room with all lights turned off except the TV on which GREEN ZONE is currently playing. The first exposure illuminated the room evenly, but the second exposure focused the flash mainly at the center, creating a vignette effect. This was done by extending the magnification on the flash component.

When I tried to duplicate the exposure, I was never able to get the exact same brightness. Although all settings on the camera were the same, I was not able to get the flash to illuminate as much of the room as exposures 635 and 636. I've tried numerous times and nothing has worked. I think the reason these two pictures are much clearer than 655 is because the batteries in the flash component were stronger than subsequent attempts.

I began the process of uploading these pix this morning at around 9AM. It is now 5PM and I have just press the SUBMIT button. I'm told by sprint technical support that I can expect this type of behavior during peak hours. So I'm assuming that the reason I'm now able to complete the task at hand of writing an entry to my lj account is because the airwaves are free for little ol' me to use. WTF? What I wanna know is this, does the bigger phone get the connection first? I mean, if I had an EVO cell phone, would I then be able to surf during peak hours without any problems?