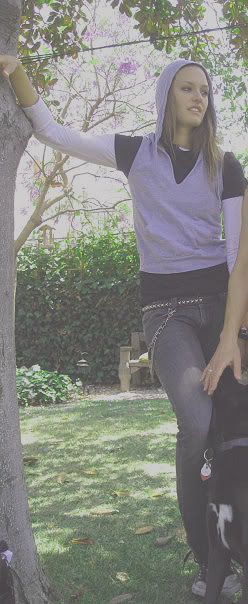 It isn't that I've been hearing a lot of talk that an upcoming movie called A MARINE STORY is going to be a blockbuster. As I was channel surfing, I saw that one of my favorite movies was playing on TV. It's called Lovely and amazing, though I can't for the life of me remember why it would be a flick I would ever want to see again. But I did, and just in time. I mean, I only missed, what? the first 20 or 30 minutes… because the scene with the actress who I had meant to do some research on was playing.

I could be wrong. And no doubt that I am incorrect in thinking this is Christine Mourad. I'm only going by the picture of her in LOVELY and that was nearly ten years ago. People change. She's what, now, 43? but I think this could be Christine, although it's more likely to be Paris P. Pickard seeing that Paris has one of the lead roles opposite Dreya Weber in A MARINE STORY. Pickard's pictures are just as difficult to find online. I was certain I would be able to compare the picture here against any others found online with an adequate byline, but no. Post production films can be so secretive, especially if they're not doing so good in the eyes of the media.

Then I began to think, if Greg Germann is married to Christine Mourad, then Christine has to be a really hot bombshell like the gal shown here in the hoodie. Again, this picture is no 43 year old. Damn! The next question is whether I will go to see this mysterious movie with two co-stars that have a limited number of pictures online. Yes, I think I would, though the story line really isn't my thing. But who cares about story lines? I'm only there to capture the moment. The moment in which CM steels the scene away from IMDB's listed co-star and becomes a possible award nominee for best supporting.

OMG, I'm have a déjà vu moment.

I'm not losing my mind. I don't have alzheimer's (yet). I know why I couldn't remember what aspect of Lovely and amazing makes me want to see this film a second, third, fourth time. The Hickory dog scene. Obviously, back when I saw that movie for the first time, either I became so entranced with CK, or I had made a feeble effort to research online info on CM, which, BTW, back then was probably more challenging (first, because I feel I've learned a lot about web surfing than I did in 1, and second, because CM didn't have under her belt productions like Gilmore girls, which BTW my old man had some work in, Six feet under and Friends with money). I'm giving up now. Life's too hard to worry about not being and IMDBPro member. I'm just a nobody working on the great American screenplay.