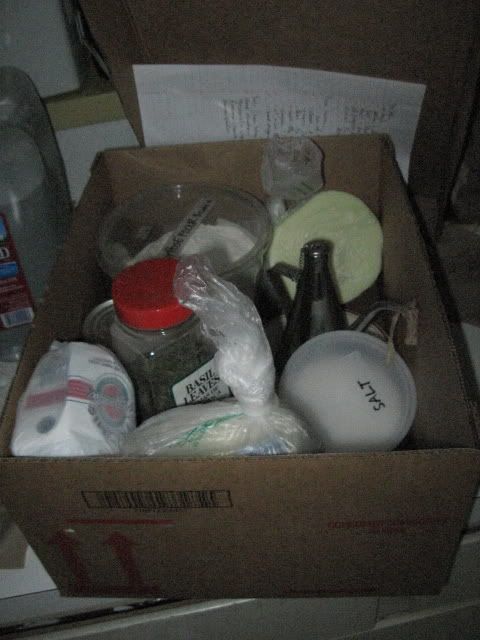 I knew, despite taking the time to make a list of ingredients, that I would undoubtedly forget something. What I forgot was the corn meal, but it wasn't necessary as I had no problem with the pizza sticking to the pizza stone.

In this picture you can see some of the Mexican tupperware I've collected over the years, the Avon box being the most obvious. I meant this entry to be like a how-to make pizza recipe, but dudes aren't too adept at sharing recipes. I was going to bring an entire Costco giant package of all purpose flour, but even though it's half full, it still weighs a bit and I don't really want to be concerned about making space for it in the fridge at work. I'm not one to leave a package of food just lying around if I think the place could be haunted by mice/rats. Sanitation first. Remember to wash your hands.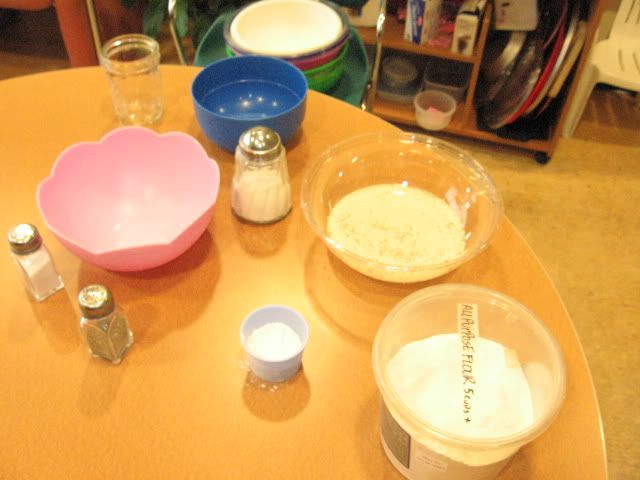 At this point I'm unpacking my box of supplies while I check my work schedule for an idea when I can break away to cook. At this point, I'm starving. Once I start making the pizza, my stomache begins to growl from the aroma of the food.

Fill up one of the containers with 1-3⁄4 cups warm water. Add a teaspoon of sugar and one packet of yeast. I like the packets of active/rapid rise yeast. I once bought a container of yeast, but my pizzas didn't turn out the same and I ended throwing out the entire container. Let the yeast sit for ten minutes before you begin to combine the flour. While you wait, Add one tablespoon of salt to the flour and mix it in good. Also, peal about 2-3 cloves of garlic and press them into the flour. You can use a knife to chop the cloves into tiny little specs too. Also, measure out 1⁄4 cup olive oil. When you're ready, combine the cloves into the flour start combining the water and oil into the mixture. Knead knead knead. When all 5 cups of flour are combine, you should have something resembling pizza dough. Split the dough into two portions, for two pizzas.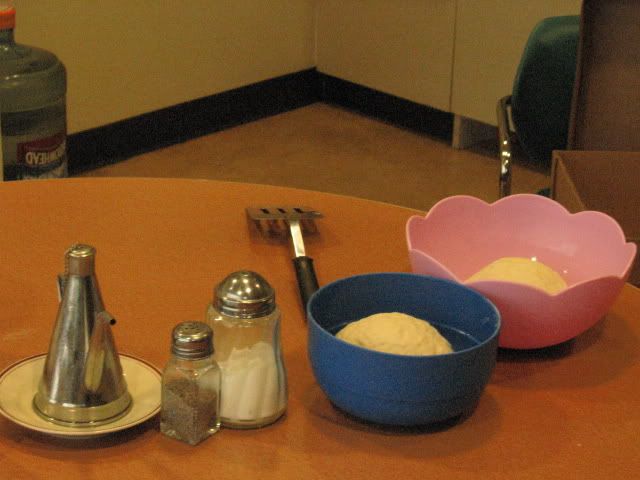 You should form the dough into equally sized balls. Coat two bowls evenly with olive oil. Place each ball of dough inside and allow to rise for one hour. This means you have 1⁄2 hour of rest time before you'll need to start making the sauce and slicing (grating) up the cheese.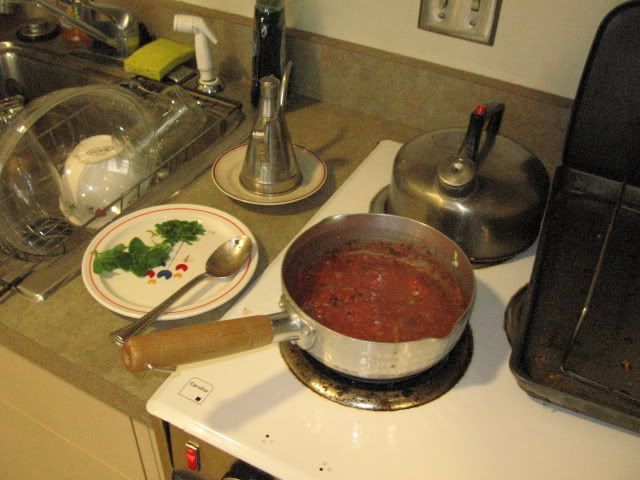 I like canned sliced tomatos. It makes things easy. Otherwise you have to spend time peeling and seeding ripened tomatos. Screw that. First pour about 2-3 tablespoons of olive oil into a sauce pan and slice 2 cloves plus 1⁄4 onion to saute. Let that brown to transparency for five minutes before you pour one can of tomatos. Once you pour the canned tomatos in, lower heat to simmer. Add 1⁄2 tablespoon of sugar and 1⁄2 tablespoon of basil. If you have fresh basil, use three leaves chopped into a fine mesh. Stir your sauce constantly. Add salt, a pinch or 1⁄4 teaspoon. Just before this sauce cooks, in 25-30 minutes, chop up about two leaves of fresh sweet oregano and add it after you turn off the heat. Mix in while the sauce slowly cools.

Spread the dough. The more pizzas you make, you better you'll be tossing it in the air to make it round. This recipe of dough allows for tossing, but requires both hands and gentle handling.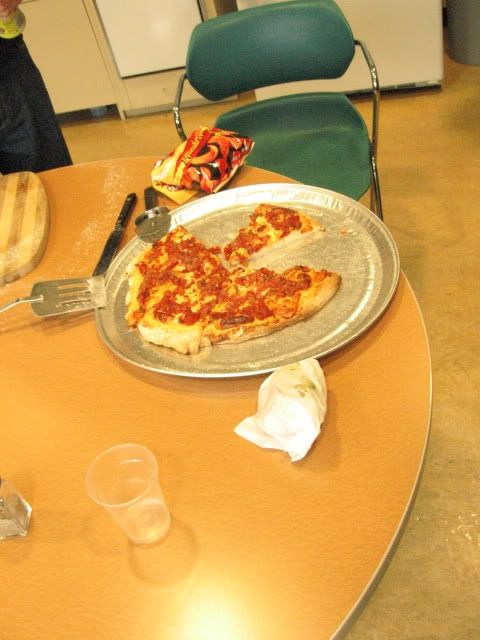 Eat. This first pizza contain three different cheeses. Mozzarella, cheddar and romano. This pizza disappeared fast. the second pizza contained three different cheeses too. Mozzarella, provolone and cheddar.

Note: I don't shred my cheese anymore. At least not the mozzarella and provolone. I slice it as thin as possible, but they usually end up 1⁄8 inch thick. Also, when placing the toppings, I layer the cheese on the pizza dough before the sauce. I do this because I heard a pizza maker exclaim that everybody else makes pizzas backward while he was being interviewed for a pizza competition in Chicago. However, After I top the mozzarella, provolone, what have you, with sauce, I use the finest grading for lightly topping the pizza sauce with the a layer of romano cheese. I do this because it still feels weird eating pizza without the cheese visible as a topping.