I've been debating for awhile now whether I should pay a visit to The echo or Echoplex. I've probably missed a few good bands which have already played a gig there, but that's just the way it is. There's no love lost there. The problem is, how in the hell does one determin which indy band to go see. They're all so unknown still, but I think the mystery is solved. Watch for punk clad rockers hanging out along the sidewalk and the band is surely to be good. I rather see a bad punk band rather than a good hip hop band, rap band, emo.

For a group of rebels who pride themselves in clashing apparel, these kids really look good. Honest to god, the rock industry is controlled by the youth. Rarely do I ever see adults getting their rocks off by drassing that way. I wish I was young again so that I would have the balls to shop for colorful checkered skin tight pants. I'd be good enough to eat.

How absurd that the on-line website for The echo should specify that Echoplex is all ages, but The Echo 18+. Why must the grown ups tolerate awful music. What I liked best about the concert was the lack of security along the stage to catch the hardcore mosh pit slammers making their way up on stage to dive into the crowd. That was a sight for sore eyes. Again. Wish I was young and daring.

Although I felt a bit out of place with my dull hair, a couple of the tailgaters chilling by their hatchback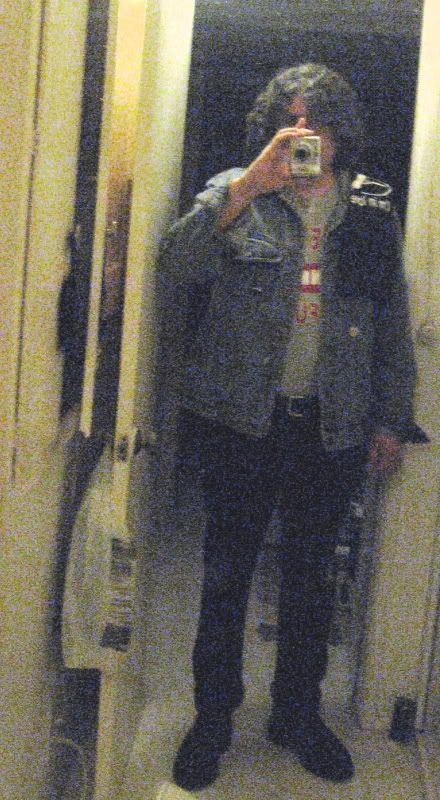 headed toward the show and said, "The show's been cancelled." Could they've been scalpers? or just out to make an honest living selling black market products? I don't know, man. I have no self control when it comes to feel good pills. I said thanks and I would check it out as I wasn't about to head back to the ol' rat hole until I satisfied. I've never noticed any indication that The echo is hosting happening performances.

It's true what I've read in yelp about the qty of peeps with cameras. Being the newb was obvious as the line waiting to get just lagged. Perhaps I'll cross post this on yelp. It must've been around 10:45 when I made my way back to the bar only to be informed that the bar had closed. At least I didn't fail to see the main event, FUNERAL DRESS. I picked up a tee, which I'll be happily wearing as it seems to have passed inspection (100% cotton, good fit). Although I don't think I'll ever get up the nerve to build a wardrobe of clashing colors, punk rock will always be in my heart as the precursor to good HEAVY METAL. For indy metal bands, however, I think I have to trek my way out to Hollywood's Whiskey and/or Roxy theater.

Today was an observance for a birthday. Not mine, nor anybody I know. Just peeps who were born between 13—19. Next year should be good too. I hope they book a winner for Friday. Um, lessee. I want to get in the habit of leaving voice entries on my lj. The previous one I did I was slurring my words.